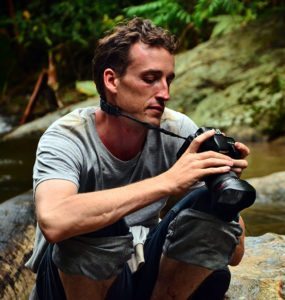 Jeffrey Warner
Jeffrey Warner as the author of the Indigenous World Voices project is a photojournalist dedicated to concentrating chiefly on the environmental and societal impacts of modern economic development.
As a context for looking at the human condition and global issues at-large, Jeffrey has since 2010 been focusing on northern Thailand region's marginalized peoples, primarily the region's rural Thai as well as indigenous, ethnic "hill tribe," communities. Jeffrey has authored two books.
Jeffrey supports the notion that civic media is perhaps the most powerful human-made force on Planet Earth.
  Public information likewise becomes most useful when used for creating social capital via going beyond just reporting on events, but rather delving into pertinent issues by empathetically including everyone in the communication process. This can and will ultimately bring benefit to a global society via empowering people through humanitarian means.
Jeffrey has a formal education in mass communications, sociology, and psychology. His professional background spans the fields of social services, television news production, newspaper, magazine, and other media.
He who has since 2010 been dedicated to concentrating chiefly on the societal impacts of modern economic development.
As an environmental context, Jeffrey has been focusing on northern Thailand marginalized peoples, primarily the area's indigenous, ethnic "hill tribe," communities.
 Jeffrey's currently most notable works are the books, Dignity Amidst The Rubbish: Hour-by-Hour With a Burmese Migrant Community in Thailand and Indigenous Voices: Glimpses Into the Margins of Modern Development.
Click here for Jeffrey's full professional and personal biographies.
CLICK HERE TO LEARN ABOUT JEFFREY'S JOURNEY AND INSPIRATION FOR DOING THIS PROJECT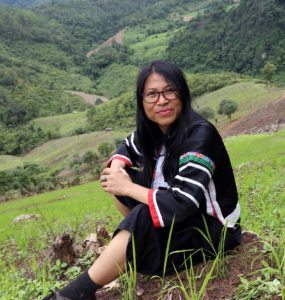 Tanya Promburom
Tanya Promburom is the former head researcher of the Research and Foreign Affairs Office at the Faculty of Business Administration, Chiang Mai University, in Chiang Mai, Thailand.
Promburom is a research professional and community organizer who has for fifteen years engaged in research on ecotourism and natural resource management in various socio-economic aspects.
Tanya has since 2012 been the primary local Thai supporter of "The Indigenous Voices Multimedia Project."
She (in addition to providing this project's author with a great deal of supportive encouragement) has contributed financially as well as coordinated community fieldwork logistics, including language translations.
Promburom is now pursuing her Ph.D at the Women's and Gender Studies Program at the Faculty of Social Science, Chiang Mai University.
CLICK HERE TO LEARN ABOUT TANYA'S INSPIRATION FOR SUPPORTING THIS PROJECT 
We Have Not Done This Alone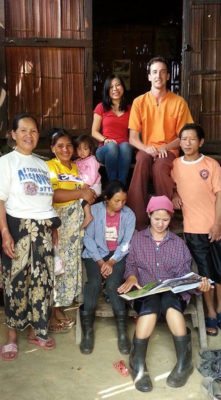 A wholesome thank you goes to the Doi Mot, Pang Daeng, Mae Lue, Hin Lad Nai, Nong Hoi, Pumuen, and Ban Nam Bor Noi (Tior) village communities, as well as the other villages I had the privilege of more briefly visiting.
Tuangporn "Mink" Wiroonchatapunth, thank you for taking me to Mae Lue village and introducing me to Weerayut "Yuut" Choksuksiangwiwek and his family, as well as the loving warmth of the Karen people. Thank you Forlae and family of Pumuen village for opening up your life to us.
Carina zur Strassen (Ph.D.): thank you for your honest and pinpointed analysis and your awareness of how each person and situation is individual and unique. Robert Baldwin, thank you for your stable friendship and non-judgment, and for straightening out my thoughts with your text editing. Gratitude is also for Elena Rueckheim, for your help with getting me get started with structuring this material — clarity.
Aaron España, thank you for the editing, for interviewing us, and for your uplifting gift of pointing out what's important. Thank you, Wanake "Oui" Jantarathip, for your artistic input and overall personal support. Wattana Wattanapun, your paintings have added another highly meaningful and important dimension to this body of work; thank you for this contribution.
Siriyapan ("Ehh") Chaimongkol, it is because of our special relationship and rural Thailand motorcycle adventures that I have attained understanding into any of what this book contains. Stuart Land: Sometimes, all someone really needs in life is for someone to take notice. Your personal and professional support has been pivotal and life changing. I will be forever grateful. Kjell Skyllstad: You are a man of true power and nobility; your life has proven this. You are a role model, and I am honored to have received your supportive wind underneath my wings.
We would also like to thank Esso for the camera work and overall support. And, all of you non-native English speakers who contributed to this project by using your voice to represent the "villagers' voices:" Bang, Yaw Zar, Otome, (list additional names here).
A big thank you must be given to our extended family, for your support.
Gratitude also goes to the others around the world whom we may have not mentioned here by name, both long-time friends and those met in passing.
If you somehow know that "Indigenous Voices" exists, you have likely contributed in some way, and I sincerely appreciate your interest and support.
Thank you, all.