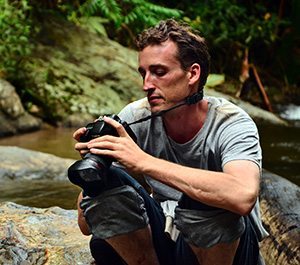 Jeffrey Warner is an award winning journalist, a communications consultant, societal analyst, storyteller, and documentarian.
The core of his Work focuses on addressing the societal impacts of economic development. … He does this in context with holistically revealing and reflecting upon the importance of our varying 'traditional' cultures and the intrinsic value of our heritages, particularly those of ethnic indigenous communities. He has created two books about this.
Jeffrey has nearly one decade of international living and working experience, with backgrounds in social services, social psychology, and mass media (CV).
He has, on three world continents and amidst widely varying cultural contexts, been filling various roles in social research and media. He has worked across multiple sectors including those of private companies as well as government and non-governmental organizations.
This experience has involved working in social services, television news (e.g. studio production, as well as field work; video), newspapers (e.g. as a reporter; print writer/photographer), and magazines (e.g. as a photographer/writer/editor).
Living his work, Jeffrey as a freelancer has initiated and embarked upon on a series of self-directed photojournalism projects.
His photographic work, for example, has been exhibited in the United States, Thailand, Hawaii, the UK, and most recently was used by the United Nations.
***
Jeffrey supports the notion that civic media is perhaps the most powerful human-made force on Planet Earth. Public information likewise becomes most useful when used for creating social capital via going beyond just reporting on events, but rather delving into pertinent issues by empathetically including everyone in the communication process. This can and will ultimately bring benefit to a global society via empowering people through humanitarian means.
He strives toward subjecting himself to cultural environments foreign to those in which he was born, in an attempt to better understand the human condition. His work is propelled by an underlying conviction to locate the heart of human experience. This includes, but is not limited to, seeking the inner voice of people who are ensnared in the extremes of war, poverty, disease, displacement, and social injustice, while providing a window of opportunity for others to peer into their world.
He has a formal education in mass communications, sociology, psychology, and urban planning. His professional background is in the fields of social services, television news production, newspaper, magazine, and other media. Following a spirit-led life vision, Jeffrey received his first taste of international journalism while living and volunteering in Sarajevo, Bosnia. Gaining insight into the long-term socioeconomic effects of armed conflict greatly expanded his worldview. Beyond embarking on additional world travels, including living in Italy, Jeffrey has resided in Chiang Mai, Thailand since 2010. There, he worked as a writer, photographer, and editor for local publications.
Jeffrey began his freelance career in October 2012, and has since taken particular interest in how globalization and related modern development are affecting the lives and traditions of indigenous peoples, whose knowledge he believes remains perhaps the representative core of what it truly means to be human. With this foundation, Jeffrey is now exploring deeper how urban and regional planning can co-exist with and yet maintain natural resources and the integrity of communities' cultural makeup.
Beyond realizing the madness correlated with an growing, worldwide consumer culture, Jeffrey derives hope from a deep belief that people are inherently good, and that the world does function on light, which is what he aims to illustrate with his work.
Jeffrey's currently most notable works are the books, Dignity Amidst The Rubbish: Hour-by-Hour With a Burmese Migrant Community in Thailand and Indigenous Voices: Glimpses Into the Margins of Modern Development, and the research project: Pumuen Village: A Template for the "De" of Development
Click here for Jeffrey's full CV.
Additional biography information: Becoming a Global Citizen: A Journey of World Environment