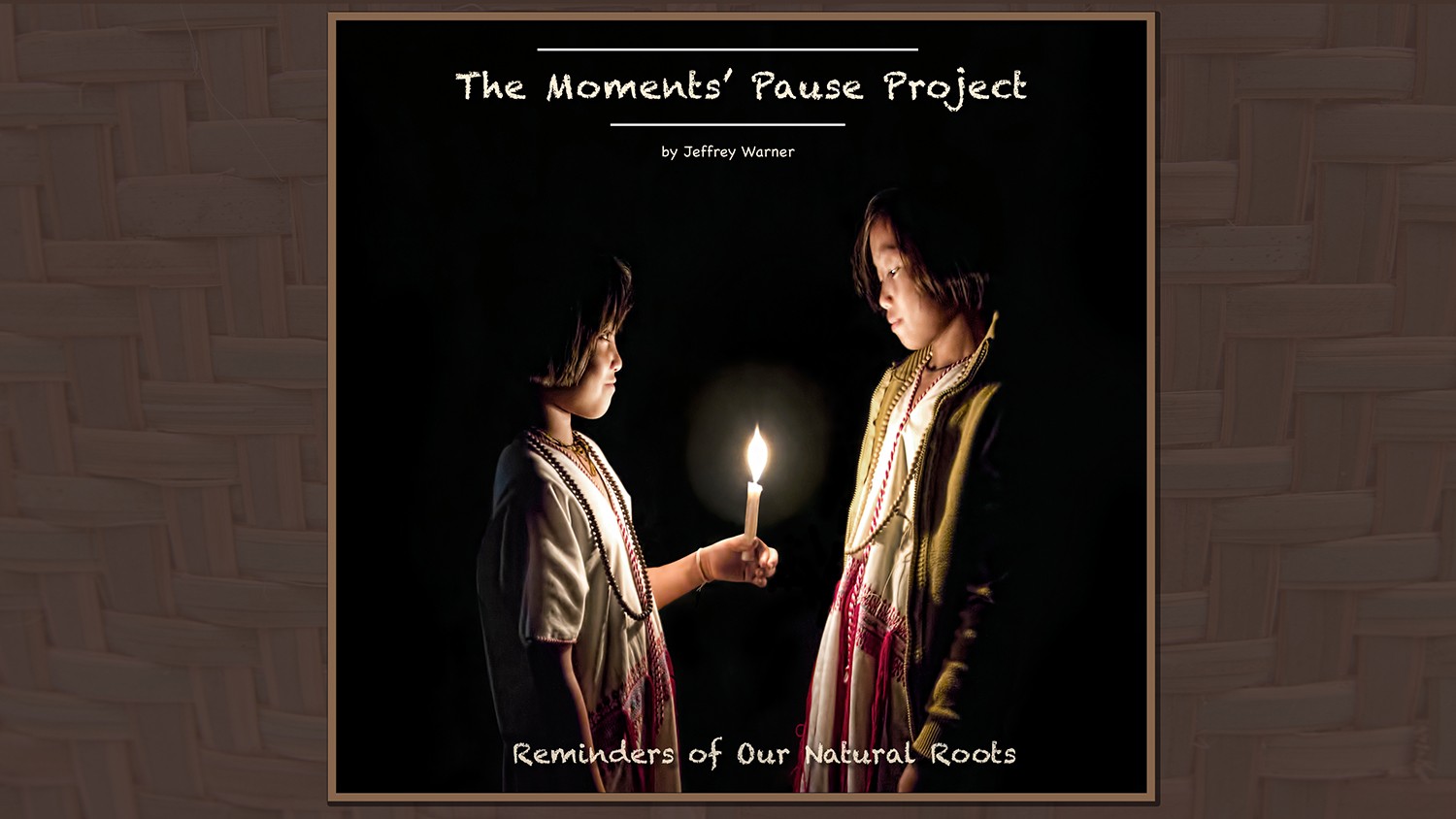 The Moments' Pause Project: Reminders of Our Natural Roots Overview
"The Moments' Pause Project: Reminders of Our Natural Roots is a research, multimedia, and social capital building initiative that is tending to this world we all as a global community share.
During a global era of increasing political tension and societal unrest, this grassroots Project reminds us about our natural roots and about peace in social unity.
This is about momentarily slowing down from our seemingly incessant state of being "busy." It's about introspectively thinking before we entirely destroy our life-sustaining planet (and each other), and about meditating on the natural goodness that remains.
We are all indigenous to Planet Earth. Let's take a moment's pause then and tune into our more primal, indigenous, nature.
There are socially binding commonalities that all humans share. These are our core needs to be loved and accepted, to be accepting and loving, as well as our necessity for having a nourishing natural environment that includes familial and community connection.
Can we, if even for a short time, contemplate in these regards the importance of our varying cultures and the intrinsic value of our heritages? How about the significance of and capacity for our inclination to live in harmonious community with one another — perhaps (once again) regulated by our natural environment?
Can we observe and listen to the 'voices' of people from an age range and from different ethnicities comprised of those who still represent ways of life, and harness vitally essential indigenous knowledge about these aspects, inherent and fundamental to all of us?
***
The intended result of this Project is to create a media based discussion platform whereby people may have opportunity to exchange in productive dialogue.
We can accomplish this with seamlessly paired documentary photography, video, and in-depth interview conversations. We could then use this media as a central focus point — a campfire of sorts — for conversations about topical global issues that are effecting Us all.
For with each older generation that the modern world is losing — their 'traditional' knowledge with them, amidst our supposed capitalist 'development progress' and a resulting homogenizing world culture — it is as though monumental segments of an ancient societal iceberg are sliding into the sea.
Will you join with us in observing and preserving our natural roots?
This is the synopsis and multimedia trailer video for The Moments' Pause Project.
(Click here for a separate Youtube viewing.)
Modernity and the Societal Margins of Development
Modernity: While its technologies and lifestyles have become commonplace in modern-day 'developed' societies (i.e. the West), there remain human communities located in the 'developing world' that still function on the margins of capitalism's globalization phenomena. What could be considered 'modern' or 'traditional' lifestyles can still be simultaneously observed.
People in these locations, although modernizing, are using indigenous knowledge to more naturally live off the land. This is rapidly changing, however, as globalized modernity and its related lifestyles is perforating the social fabric of the developing world. People are departing from their root connections with nature and depending more on global market systems for their survival. Ethnically traditional lifestyles are hence being dissolved and replaced by a homogenizing modern world culture.
***
The Moments' Pause multimedia project — while utilizing the socio-contexts of rural peoples living in sort of in-between stages of mainstream global modernity — is really about all of us. This is about communicating with one another, while heeding the wisdom of our elders and providing a future for our young.
What of our essence are we giving up in the midst of supposed development progress? What can be done, particularly in the earlier stages of development planning, to mitigate development's environmental and socially detrimental phenomena?
Because people of these more 'traditional' communities, particularly those of indigenous peoples, are knowledge-keepers of nature. They likewise represent something inherent to us all, the core of what it truly means to be a human being. If, due to modernity, their traditional wisdom becomes lost, just what hope is there for any of our survival?
Project Context and Rationale
As an environmental context, this Project utilizes the overall environment of rapidly developing northern Thailand and the livelihoods of the region's rural peoples as a comparative context for exploring some of the societal effects that economic development is having on human society. This includes how changes in physical environment alter relationships amongst ourselves and with our natural world.
Amid the high mountains of northern Thailand, communities of indigenous peoples have for generations been living relatively traditional lives. However, their traditional cultures are literally vanishing as modernity is shifting centuries of learning and indigenous knowledge aside.
Like the people who are living in the urban areas below these communities, they are becoming evermore part of a modernizing trend. Global market forces and government policies are in a sense forcing villagers to shove centuries of indigenous knowledge aside and adopt modernized, developed, lifestyles in order to survive.
These communities are trying their best to maintain traditional ways while adapting to an encroaching modern world that is pulling them in one television program at a time. However, as the village elders are fading away, their indigenous knowledge is disappearing along with them. The middle-aged community members want to preserve the culture, for which they feel responsible, but they may not know how to do this amidst a rapidly changing environment; they are losing the capacity to absorb the elders' knowledge and experience. The younger generations are looking to a world outside of the village for examples of how to survive in a modern society.
Resultantly, many of these communities are amid a very tangible identity crisis, and their future is uncertain.
The economic market related decisions that humans have been making for generations are rendering like never before very tangible effects on our reality — some for the worse and some for the better — in terms of our natural environment and overall social functioning.
We are perhaps at a pivotal point in our history. If we are going to find creative solutions to global challenges, then let's focus on the root of prominent global issues. The urbanization related issues transpiring in 'developing' parts of the world — land grabbing, material acquisition, environmental degradation, economic inequality, ethnic gentrification, poverty, and a resulting increase in social division and conflict — have long since happened (and is happening) in what is considered 'First World' developed, supposed more advanced societies.
These phenomena exist largely because we humans generally have unplugged ourselves from nature, arguably since the Agricultural Revolution and the onset of surplus driven competitive market systems that continue to dictate our existence.
It's perhaps prudent then that we humans really take a moment to reflect: What is happening on Planet Earth regarding the supposed progress of the human species? Let's take a closer look, at ourselves. What should we humans be prioritizing? What do we really want — for ourselves, our neighbors, and especially for our future generations?
***
The Moments' Pause Project, at its foundation, focuses on the 'de' of the word 'development.' What are development related processes taking away from what is essentially the essence of Humankind — our unique cultures, our traditional ways of life, our connection with nature? What are the societal replacements, both negative and positive?
This Project is proposing that more traditional world cultures, particularly those of indigenous peoples whose communities represent a nature intrinsic to us all, can potentially serve as a contemporary social-scientific measurement of how societies across the globe are being affected at the core by modern development related phenomena.
This conversation can be initiated by remembering where all of us really come from — and it isn't the city.
We can begin by listening to 'indigenous voices,' from an age range and from different ethnicities, and about how their communities have been impacted by economic development.
Indigenous Voices: Glimpses Into the Margins of Modern Development (book)
The above is a 35-spread cross-section view of the Indigenous Voices book.
(Use the button located on the lower-left corner of the control panel to view in full-screen mode.)
Indigenous Voices: Glimpses Into the Margins of Modern Development, which encompasses five years of the author's field research, is the foundation of The Indigenous World Voices multimedia project.
This 300-page book will take you somewhere rarely seen by the public eye, into the mountains of northern Thailand. There, communities of indigenous peoples have for generations been living fairly traditional lives even in the wake of an encroaching modern world culture. However, their traditional cultures are literally vanishing as modernity is shifting centuries of learning and indigenous knowledge aside.
We, step-by-step, learn about some of the effects that modern economic development has had on these communities, and we hear what some of these villagers have to say about this. We explore what this may mean for all of us humans.
To better understand northern Thailand's indigenous peoples and their overall situation, this book entails the seamlessly paired integration of documentary-style photography, prose, and in-depth interviews — "voices" of villagers 14-84 years old, from three different ethnicities, and from villages existing at different points on a development continuum. They open up the doors of their homes and help us understand.
Indigenous Voices is not merely a book of photography; this is also a textbook for those who are interested in gaining foundational understandings into the societal effects of globalization. This thesis is engineered as a part-by-part experiential learning model. Each included community is undergoing a particular stage in the development continuum, and each part of this book will bring you to a new level of understanding into development related issues.
In addition to providing the general public with a window into the seldom seen world of mountain village life, this culture preservation project additionally explores economic development related effects on human society overall and how environment related changes alter relationships among ourselves and our natural environment.
Are you ready for this journey?
***
(Click here to view an additional cross-section view, including photographs and "voices" included in the Indigenous Voices book.)
Some of the photographs and "villagers' voices" used with Project were presented and exhibited at the 2015 Urban Research Plaza's "Partnership for Change – Finding Creative Solutions to Urban Challenges" conference at Chulalongkorn University in Bangkok, Thailand. These materials were also exhibited at the 2016 International Day of the World's Indigenous Peoples festival in Chiang Mai, Thailand, and at the 2016 United Nations IUCN World Conservation Congress in Honolulu, Hawaii. This book's author in January 2017 also personally gifted a copy of "Indigenous Voices" to Thai Princess Maha Chakri Sirindhorn.
Multi-phase Multimedia Project Plan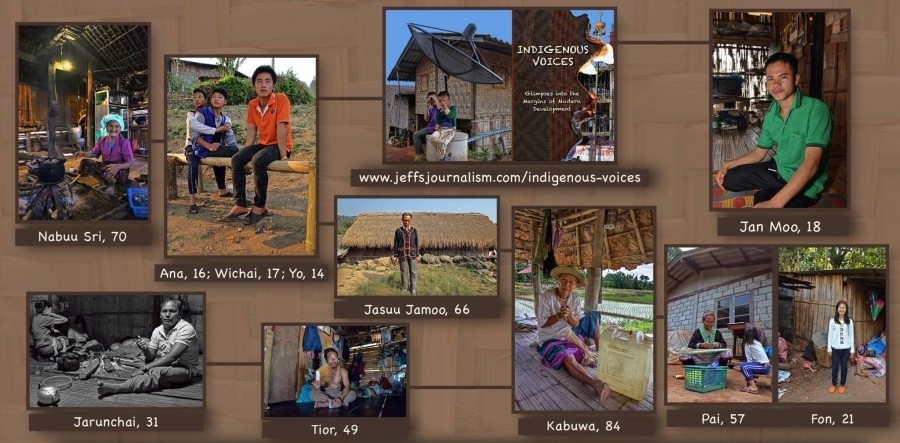 Due to the length and the overall multi-faceted extent of this Project, having its media material in both print and video format — combined into one presentation package — will render this research material, and project overall, globally most accessible, presentable, understandable, and therefore marketable to various sectors that could use this body of work to its highest capacity.
Here are the current goals of this Project:
Develop a multimedia video comprised of the photography and interview "voices" material included in the Indigenous Voices book.
Public presentations (e.g. exhibitions, talks, make media available to any others such as organizations and academics who can utilize this material to initiate further discussions, etc.).
Translate this media and initiate cross-cultural collaboration/village community engagement.
Publish the Indigenous Voices book and distribute with the companion multimedia video. This will be intended for expanding audience diversification, for educational purposes, and to spark interest in further collaboration initiatives across both government and non-government sectors.
Produce a full-length documentary/film.
Expand the Project by using it as a foundation for building the Global Village Hands organisation.
1. MULTIMEDIA VIDEO: The Indigenous Voices book author has repeatedly observed that the visual material included in the Indigneous Voices book intrigues people who initially observe this 300-page publication. However, readers seem to not have the time available at that moment to grasp the multi-faceted material that this book contains. Therefore, this book material is not being absorbed as intended.
Having the Indigenous Voices book material available in multiple media formats, as a foundation of The Indigenous World Voices project, will alleviate this issue and also greatly expand opportunities for this work to be shared across a diverse audience spectrum.
This media production process will begin with the creation of an audio-visual version of some sections of the Indigenous Voices book.
This video will include project overview information that is contained in the Indigenous Voices book introduction and the in-depth interview 'voices' of indigenous people of an age range 14-84 years-old and from different ethnicities. This will entail still photographs and video that are voiced-over by non-native English speakers, preferably indigenous peoples and information from the Indigenous Voices book's epilogue.
Music undoubtedly has a powerful way of crossing cultural borders. Therefore, indigenous people's music is a primary artistic component of the video version(s) of this Project.
The primary music included in this video is that of a young ethnic Karen man named, Doo Plout. He, as a refugee from Burma, is also a social activist who is fighting for the rights of indigenous peoples.
Also included in this video will be the music of ethnic Karen activist, educator, and musician, Chi Suwichan. Mr. Suwichan is well known in SE-Asia and beyond for his human rights activism efforts. I met Chi in March 2015, while we were both on the Thai-Burma border. There he leads a cross-cultural college campus. I recorded him while he played the Karen harp and sang the traditional Karen song, "Wild Chicken." This song addresses how modernity has effected the core of traditional Karen culture.
This one-hour video can and will be used for various purposes including public presentations (e.g. exhibitions) both journalistic and academic.
[ * NEW DOCUMENTARY: "Indigenous Harp Singer: Development's Societal Perils and A Moment's Pause" takes you on an adventure to somewhere rarely seen by the public eye: into the rural mountains of northern Thailand and Kayah, Myanmar.
There, in the wake of 'development' and an encroaching modern world culture, the traditional cultures of indigenous peoples are literally vanishing as modernity is shifting centuries of learning and indigenous knowledge aside.
In this video, while Toni Oo is sharing her musical gift, other villagers walk us through their community. … Together, we discover and observe culturally traditional activities such as rice processing, wood collecting, spiritual practices, all-natural jungle food preparation, music, and courtship dancing. ]
2. CIVIC ENGAGEMENT: It is a tenet of civic journalism to build social capital by including as many people as viable in the communication process. Therefore, the rural village communities that have contributed to this Project should be included in the topic discourse that this project addresses.
During this Project-phase, I along with my Thai research colleague will revisit the rural indigenous communities that contributed to this project's creation and present this body of work to them (in English, Thai, and in their indigenous language).
The purpose of this is so that these communities can observe themselves, reflect, and potentially have discussions around some of the issues raised by this research material.
3. MULTI-FORMAT DISTRIBUTION: People who have initially seen the Indigenous Voices book, and who may not have available the time required to absorb the book at-length, have been requesting a print copy.
Those who have viewed the pilot video version of the book are intrigued as well, and they generally wish to acquire more in-depth information about the print book. However, the Indigenous Voices book has not yet been print published and thereby is not available to the greater public.
I envision the published book and the video as a combined multimedia package.
4. FULL-LENGTH DOCUMENTARY (or film): A professional quality full-length (59-minute) documentary (or film) will be created that will address additional issues that not included in the Indigenous Voices book or in the documentary short. This full-length film would include in-depth information about northern Thailand and the area's history overall, particularly related to economic development.
Additional script writing efforts, building from the already produced documentary short video, will be required. However, much of the information needed has already been written into the Indigenous Voices book. What will be needed is additional video footage that includes archival footage of indigenous communities located in the northern Thailand region, modern day video footage of northern Thailand, and on-camera interviews.
Click here and view a conceptual storyboard layout of this documentary/film.
5. EXPAND THE PROJECT: A core motivation of this Project is to gain more in-depth understanding about Asia-Pacific geography and cultures, particularly of SE-Asia. An objective is to further develop research and theory as to how community planning (i.e. development) worldwide can co-exist with maintaining natural resources and the integrity of communities' cultural makeup. The goal is to cultivate collaboration across cultures and throughout government and non-government sectors, with a mission to ultimately improve quality of life for current and future generations in a rapidly changing world.
As the Indigenous Voices book is the research foundation for The Indigenous World Voices multimedia project, all of this will be the foundation for the "Global Village Hands" culture preservation organisation.
The premise of Global Village Hands is to initially channel support to small and poor villages in SE-Asia — preferably to those trying to live more traditional lives but may be having challenges to do so for various reasons.
We likewise wish to assist them with countering the socioeconomic effects that modern development (i.e. the global market system) continues having on their communities, which is creating a myriad of socioeconomic problems that are essentially dissolving the traditional cultures of these communities.
We aspire to work particularly with women and youth in their self-empowerment.
What Are the Next Steps and What Is Currently Needed?
— Collaboration (and information) is first and foremost needed. We need a network of interested individuals and relevant organisations, academic institutions, and media channels that can and would like to help bring this Project to full fruition and hence make the best use of this material.
That said, it would be great if people from different aspects of this same market driven phenomenon could utlize this material to start their own discussions that are in context with their own issues. It doesn't matter if this in Thailand or Guatamala or somewhere in the African Sahara, this is relevant everywhere. This is really about the human condition.
In order for any of this to happen, the work must be completed. The media foundation needs to be further created.
— This project's author and his Thai research colleague (Ms. Tanya Promburom) have for the past four years somehow been self-funding this. We can no longer sustain. Monetary (and additional) support is therefore needed for this Project to continue — for translation services, voice recordings, dedicated Project website, media equipment, video editing, exhibitions, travel, and other logistics.
— The first media production objective is to create the aforementioned multimedia video. This will greatly expand opportunities for this Work to be shared across a diverse audience spectrum.
— A series of videos from an interview with the Project author that explain in-detail the five-year history of this Project will be produced soon. In the meantime, here is one of these videos, which will provide further Project context.
— We will translate this media material (into the Thai language) and present it to the communities that have contributed to this Project. More research can also be collected during this time, which can be used to perfect and potentially expand the Project to other world areas. But the first goal is to support these communities with their advocacy and community development efforts.
— Then, the Project author aspires to take this media material on the road. Starting in the United States, I would like to do public presentations at schools and other venues, with hopes of exhibitions, media exposure, etc.
This would be an effort to raise awareness, cultivate Project funding — which would include giving back to the rural communities that have contributed to this Project (e.g. provide youth education funds) — and potentially expand the scope and effectiveness of this Project and its social contribution.
***
Thank you for taking a moment's pause and for your interest in The Indigenous Voices Multimedia Project.